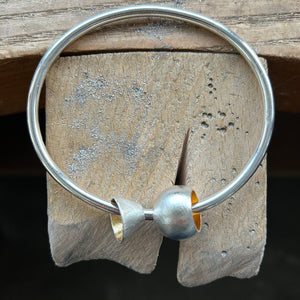 Single Bangle with Cone & Bead
Single Bangle with Cone & Bead
Single oval bangle in 3.5mm round profile silver with two bold elements with gold vermeil inside (16mm bead and 9 x 14mm cone).
Medium size. Silver, hallmarked.
Each bangle is unique, handmade by Amanda at the bench in her studio. 
Sizing is important for these pieces, please do contact Amanda in advance to discuss. Resizing is always possible, but can incur additional costs.
In 2009 A&C Black published Amanda's Bangles & Bracelets Jewellery Handbook.