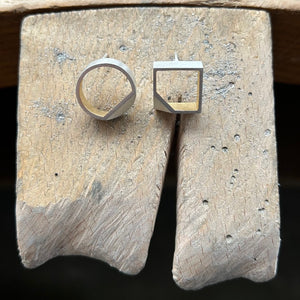 Pair of Silver Brooches with Gold Vermeil
Pair of Silver Brooches, with gold vermeil inside
A new take on Amanda's classic 'button hole' brooches, worn on the lapel or in a row. Can be worn separately or as a pair.
Each element is hand cut from a single pice of silver chenier and carefully soldered together. Approx 13mm wide each. 
Amanda is a jeweller with a love of architecture, photography and details in the urban landscape. She is interested in repetition, shapes, colours, forms and texture, creating a unique collection of jewellery from these observations. Work is created at the bench, also being inspired by the materials she uses in different geometric forms.