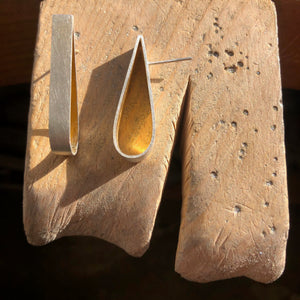 Long Pear Earrings
Long Pear Earrings

Silver, with rich gold plate inside and a matt finish.
27 long x 5 wide  x 9.5 deep mm approx.
Amanda is a jeweller with a love of architecture, photography and details in the urban landscape. She is interested in repetition, shapes, colours, forms and texture, creating a unique collection of jewellery from these observations. Work is created at the bench, also being inspired by the materials she uses in different geometric forms.
Second image illustrates other options in this range. Please contact Amanda for further information.