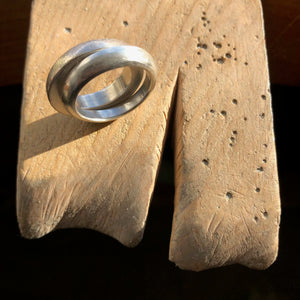 Signature Double Ring
Signature Double Ring
First designed in 1997, these rings look like one ring, but are in fact two. These unique rings are also available to commission in gold and platinum, and diamonds or precious stones can be hidden inside them.
Silver, one matt, one polished. 

Ring size M*
One ring, 3.5mm deep x 5mm wide
The other, 3.1mm deep x 3mm wide
*Please contact Amanda to discuss other ring sizes, to commission.
Amanda Doughty Rings
Amanda's rings are distinctive in that they often contain moving elements, hidden precious stones, diamonds set on the edge of the band, rings in two sections, rings inside rings, and precious stones set inside the ring itself.
Her rings are always contemporary, bold and geometric, using gold, platinum, palladium, silver, set with precious stones. They are designed and made by Amanda herself at her studio bench.
Read more here.