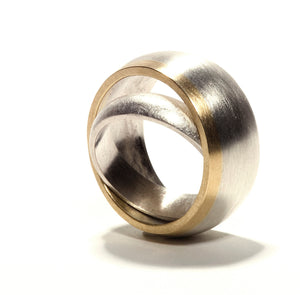 Signature 'Ring within a Ring', To Commission Only
Signature 'Ring within a Ring', To Commission Only
(see also - click here)
First designed in 1999, the concept of which was conceived whilst teaching ring making in London and demonstrating equipment. The inner ring fits the finger, whilst the outer ring moves around.
The image here shows one single ring inside the outer ring, however many variations are possible, for example, you could have two or three inner rings inside, also you can use a variety of different metals. This includes using family heirloom rings. Diamonds can also be set inside.
When you wear the ring, the inner ring is partially visible. 
Prices from £250 in silver only.
The ring shown is made of silver and 18ct yellow gold with a matt finish, from £650.
Guide prices only, subject to full quotation.
Studio consultation highly recommended.