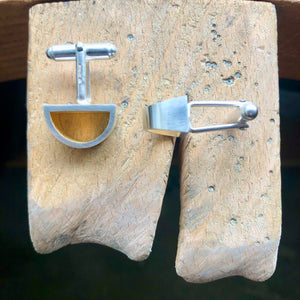 Signature Silver Tapered D Shape Cufflinks
Signature Silver Tapered D Shape Cufflinks
Heavy 24ct gold plated on the inside.
Hallmarked.
This design has been part of the collection for over 20 years, remaining Amandas favourite signature cufflink design. Bold, yet wearable, the design showing the glowing gold interior of the cufflink in all its glory.
Amanda is a jeweller with a love of architecture, photography and details in the urban landscape. She is interested in repetition, shapes, colours, forms and texture, creating a unique collection of jewellery from these observations. Work is created at the bench, also being inspired by the materials she uses in different geometric forms.