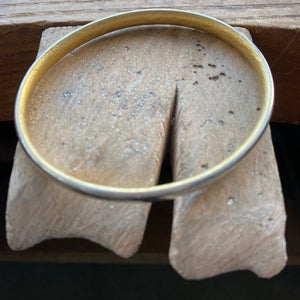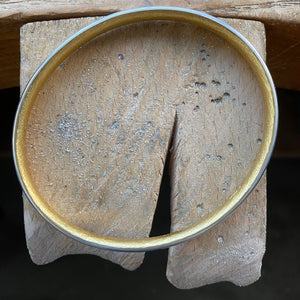 Signature Single Bangle (Fine), Oval
Signature Single Bangle (Fine version)
To commission - We keep sold out items on the website for reference and to illustrate the full collection. Please don't let the Sold Out sign put you off - please contact Amanda for more details. Approximate lead time 4 weeks.
Oval shape, oval profile. Textured with rich yellow gold plating.
Silver 6mm x 3mm oval bangle approx. Hallmarked. Medium size.
Each bangle is unique, handmade by Amanda at the bench in her studio. Other gold plating options available please contact us for details.
Sizing is important for these pieces, please do contact Amanda in advance to discuss. Resizing is always possible, but can incur additional costs.
In 2009 A&C Black published Amanda's Bangles & Bracelets Jewellery Handbook.